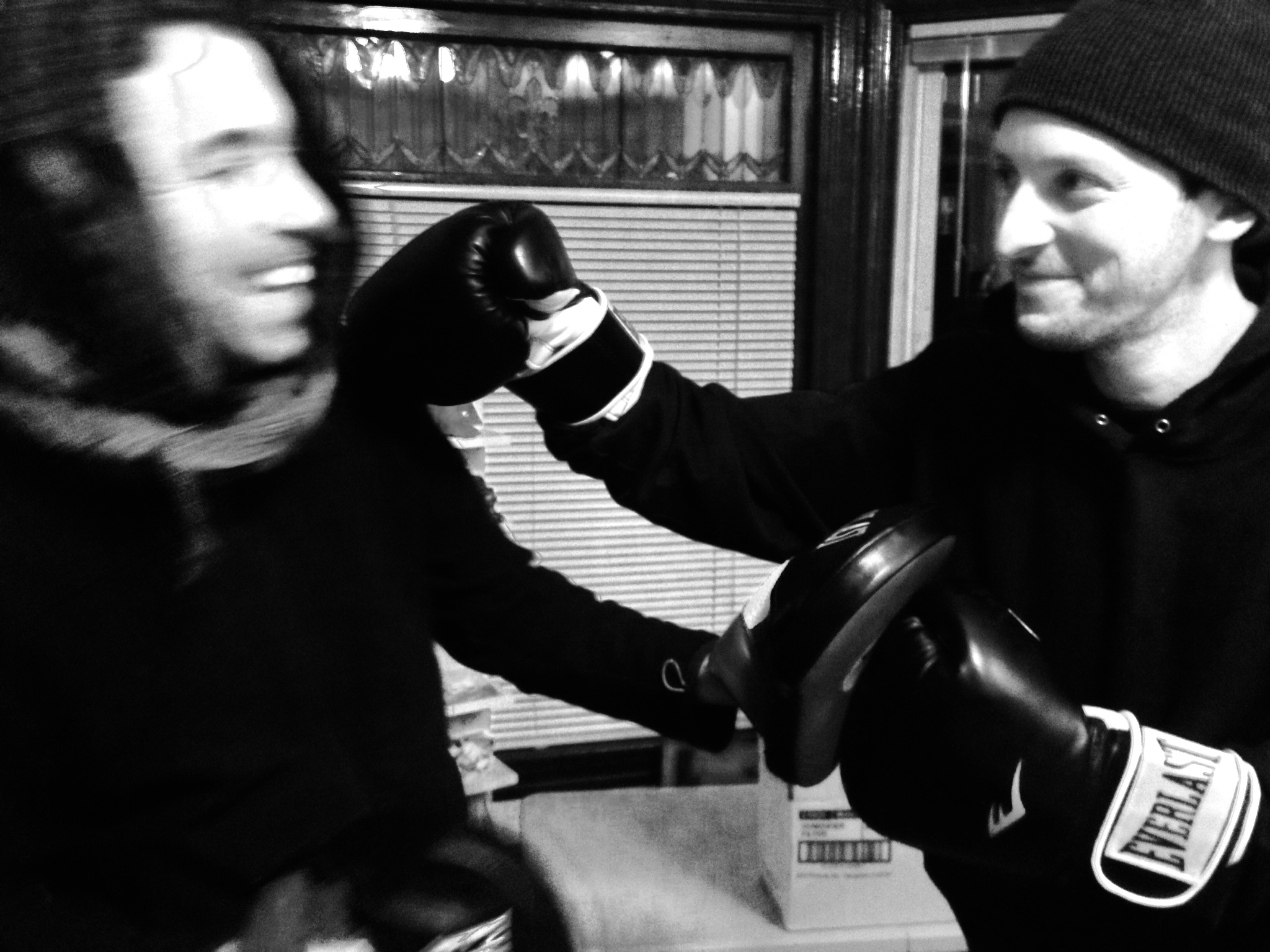 In the past, Snaex were two: Chris Teret, Baltimore native and founder of Company, and Chriss Sutherland, life-long Mainer and common spirit of Cerberus Shoal, Fire on Fire, and Olas. Now, with their latest and most urgent transmission, Holy Times, Snaex are three. At a time when quiet peace is difficult to find, this new EP prudently features the stoic wisdom of Brattleboro-bred bassist Tyler Heydolph. With Heydolph's rich anchor, Snaex dig deeper, exploring wide expanses in search of a truly open sound. Lyrically never yielding, Snaex continue to pursue the roots of post-modern distress while attempting to shed a sincere light where many cry "what the fuck?" Each of the six songs on Holy Times strives to understand that which is misunderstood: white privilege, the cult of busy-ness, the fumbling of men, humility, homage to the gods, and our common control of absolutely nothing.
Holy Times was recorded in South Portland, Maine during the final summer of 41 Pine St. The band reconvened with lo-fi guru Caleb Mulkerin (Big Blood, Swans, O'Death) in a small seamstress studio to record the purest and most transcendent Snaex offering to date. Mulkerin's sonic alchemy overflows through every nook and cranny; over these six songs, his loose glue is just the right hold. No more can be said: the music of Holy Times is completely of its moment– a captured bird yearns for freedom, only to ultimately resign to its untimely death. We are here and this is now.
--

Christopher Teret had his musical upbringing in the 1990s punk and post-hardcore scenes of Baltimore. After playing in bands through high school, he made his way to New York and formed Company, a band that operated in a smoldering and melodious space somewhere between The Clash and Neil Young & Crazy Horse. Company put out a pair of albums on the Jagjaguwar-imprint Brah Records, shared the stage with the likes of Bright Eyes and Bonny Prince Billy, and then faded into obscurity as great bands often do. They resurfaced two years ago when their song, "Poisonous Spider" was featured on TV show, The Vampire Diaries, allowing them to finance a new record, Over The Mountain. Continuing on his northward path, Teret found himself in Maine about a decade ago. He played around here and there as a solo artist, then formed Snaex with Chriss Sutherland in 2011.

Holy Times will be Chriss Sutherland's 25th album in a career that has spanned over twenty years. Hailing from central Maine, Sutherland's pedigree belongs to the punk, post-punk, and emo-core music of the late 80's and early 90's. His adolescence was marked by a stark lack of diversity with regards to culture and politics, which engendered a desire to connect with others who found themselves at odds with the North American dream. Since 1994, Sutherland has written, recorded, and performed with the critically-acclaimed postrock-avantgarde-punk-arthouse collective Cerberus Shoal (Temporary Residence Limited), the mutant-folk outfit Fire on Fire (Young God Records), and the flamenco-fusing music & dance ensemble Olas, in addition to releasing two solo records (Digitalis & Peapod Recordings). While working with these varied troupes, Sutherland toured extensively throughout the U.S. and Europe, sharing the stage with the likes of Wilco, The Sun City Girls, Herman Dune, Jolie Holland, Brown Bird, Jeffrey Lewis, The Necks, The Thermals, Death Vessel, Micah Blue Smaldone, Explosions in the Sky, and many, many more. Sutherland has embraced the ethos that music as an original and authentic expression has little value without the necessary connection to the communal ears of the listener. In his musical endeavors, Sutherland has always attempted to connect his affiliations, and in turn, has found himself an integral piece of the far-reaching musical web of New England.