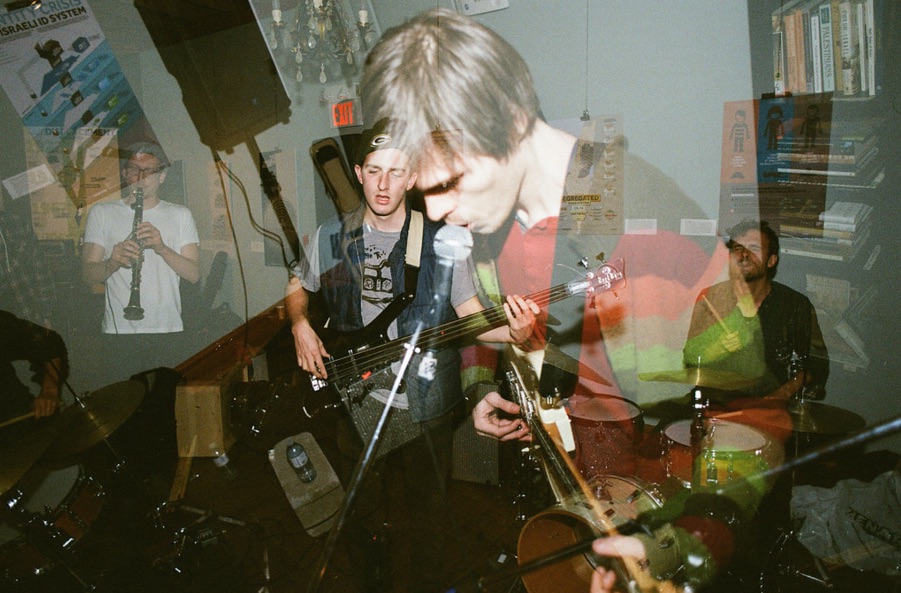 Wei Zhongle was born in a midwestern oasis, out of a love of traditional Chinese court music and general esotericism. Now they make pop music. Led by guitarist & vocal gymnast Rob Jacobs, Wei Zhongle has had four differing line-ups over five albums released with avant-taste-makers like NNA Tapes, Hairy Spider Legs, and New Atlantis. Through relentless touring and an arcane intuitiveness, their sounds have evolved from the angular meditations of their self-titled debut to the murky architecture of Raised High/Brought Low to the hypnotic ecstasy of Nu Trance. Along the way, they've picked up glowing endorsements from The Wire, Consequence of Sound, Impose, The Quietus, Tiny Mix Tapes, and others.
Their Pretty Purgatory debut, Nice Mask Over An Ugly Face is somehow both a natural continuation and a stark departure from their previous output. Gone is the spacious brooding of the band's most outré fare, replaced with a raw and potent funkiness, a radiant optimism, and undeniable ear-worm-ready hooks. It's no less trance-inducing than they've been at their heaviest, but it's a different sort of ecstasy, one marked by deep grooves, sinewy melodies, and frenetic paces. The bands' individual personalities shine through with John McCowen's frenzied clarinet-playing in constant transcendence of the instrument itself, Pat Kuehn's slithering, subterranean fretless bass work, and Phil Sudderberg's tightly-coiled, ever-shifting drum breaks. Jacobs captains the team, with heavy riffs, sparkling lines, and effusive singing that moves seamlessly from crooning choruses to chop-and-screwed vocalizations. All together the music is visceral, free-floating, and truly danceable; an inimitable and powerful sound, stripped of pretension and entirely of the now. One can find sonic progenitors in the mutant disco of post-punk-gone-new-wave, the r&b-laden chamber-pop of Dirty Projectors and kin, and the 21st century freak-flag-waving of the band's peers: a new generation of musicians synthesizing an all-in, post-everything sound. But Wei Zhongle's contemporary and dare-we-say experimental pop-music conception is an exciting moment in music all-to-itself and truly an experience that you won't find anywhere else. This is Nu Trance, ladies and gentleman.
Nice Mask Over an Ugly Face is out August 5th. Pre-order the cassette, CD or digital at tinyurl.com/nicemask.